There are endless ways for consumers to shop these days, so retailers should understand that when a customer physically goes into their store, it's for a purpose they can't achieve any other way – to acquire product information first-hand, to see and touch a product, or to have an in-store experience. Retail store associates must be prepared to help satisfy these customer expectations, and close more sales. We'll discuss these consumer needs, and how a well-informed sales associate can make repeat customers.
Consumers want the right product information
Not all customers have the same shopping habits. Some may go into a store and depend on the sales associates for product information, while others may do their own research ahead of time. According to a Consumer Shopping Trends survey, 81% of retail shoppers conduct online research prior to purchasing. If these customers meet a store associate who knows less about the product than they do, then the store associate comes off as poorly trained. Your store associates are the "face" of your stores, reflecting your level of commitment to your customers. Poorly trained associates can be what brings back customers or loses them completely.
If a sales associate is confident in their product knowledge, then they can effectively communicate that to the customer. The majority of store personnel understand the importance of consistent training on the products they sell, and having access to the right product information. In one of our recent Insight surveys, we collected feedback from sales associates about their training content preferences, and how it helps them close more sales with customers.
Consumers want to see and touch products
Research company BrizFeel found that 51% of customers claim the main thing they miss with online shopping vs. in-store shopping is not being able to touch and feel a product, making this one of the main reasons customers still visit brick and mortar stores.
So, how can retail store associates keep this in mind when helping customers? They should visually show and encourage product interaction with the customer while showing off a product's features and benefits. A live demonstration of the product that customers can touch and see in action is preferable . When this isn't feasible, use whatever means possible to create a positive "show and feel" experience. Immersive demonstrations through virtual reality or augmented reality can be very useful if the actual product isn't something that can be easily demonstrated in-store.
Additionally, it's important to remember that even your best-trained sales associates may be presented with questions that they are unable to answer. This is when it's beneficial for them to have quick, mobile access to the product information they need, such as product specs or comparisons on the spot, or to communicate with a vendor representative in real time to answer customer questions. This way sales associates can still make an impression on the customer that they are helpful, knowledgeable and have what it takes to make the in-store purchase worth their time.
Consumers want an in-store experience
Lastly, many customers come into stores simply looking for an experience. According to State of Consumer Behavior 2021 report, 26% of consumers who prefer shopping in-store enjoy the overall experience that physical locations have to offer. Whether they are just browsing, dreaming of a future purchase, or are ready to buy, stores should equip their associates with the tools and skills to help ensure a positive and fulfilling customer experience.
While product training is important, it's not the only thing that retail professionals need to be successful - retailers also have a responsibility to ensure a joyful experience for the customer when they are in their stores. Direct vendor training, in-store demos and displays can all help educate store associates about a vendor or brand's background, which leads to more familiarity, higher recall rate and ultimately, better recommendations.
SellPro brings product knowledge, communication and sales training together.
SellPro seamlessly drives product knowledge and retail training that store associates actually want and helps them close sales through powerful micro-learning, on-hand sales tools and references, retail training webinars and incentivized participation.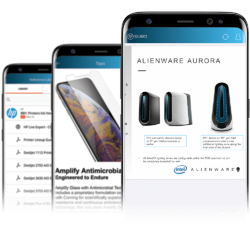 To experience how SellPro can supercharge your store personnel, click below.

---
Sign up
We write to help you train retail personnel better and increase retail sales. Sign up to get notified every time we post something new.