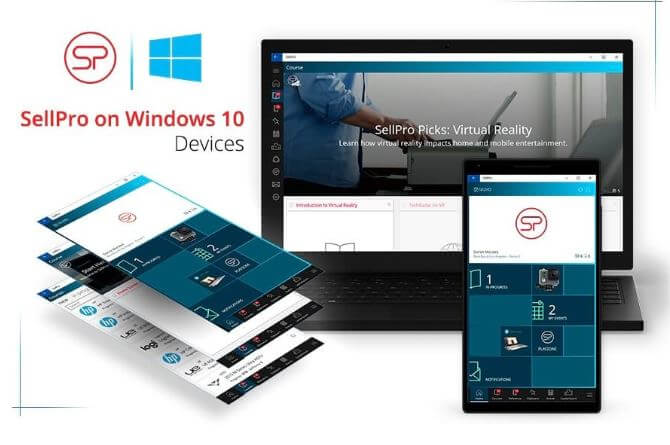 LOS ANGELES, CALIF. (PRWEB) AUGUST 02, 2016 –
mVentix, Inc. has expanded its flagship mobile retail training app, SellPro, to the Windows 10 family of computers and mobile devices with its August 1st release in the Windows Store. As an innovator and leader in the mobile e-learning space, SellPro has once again revolutionized its micro-training paradigm by providing access to users across the three major platforms – Android, iOS and now, Windows 10. SellPro is a Windows Universal Platform app available across the Windows 10 family of smartphones and tablets, but perhaps the biggest impact of its latest release is the ability for users to engage in training on their PCs.
SellPro is the standard for on-the-go micro-training that allows retail sales associates to learn about products they sell in five minutes or less. This breakthrough training approach enables sales associates to complete courses on the sales floor in their downtime, without the tethers of wired computers in the breakroom. The app provides frequent memory recall with quizzes and teaser questions that result in learning retention. Sales associates also have the opportunity to earn awards through in-app gamification, ranging from brand swag items to marquee awards, such as 4K UHD televisions, laptops, tablets and surround sound systems.
In addition to educating sales associates, SellPro also supports brand field force personnel with a secure environment for proprietary content, designed for authorized personnel only. Brand reps have access to a section of the app that caters directly to them, with the information they need, available right at their fingertips. "SellPro for Windows 10 is a true game-changer for our training efforts. It offers us a strategic advantage due to our ability to disseminate essential, time-sensitive information to our 1600+ HP field reps and the tens of thousands of Retail Sales Associates across the US, who use Windows powered devices as a part of their daily work activities," said Alex Botham, Manager of the HP Consumer Training Organization for the Americas Region. "This is a huge opportunity to expand our reach beyond the mobile community and increase HP mindshare among retail sales associates, regardless of where they consume training content."
The design, features and functionality of the Windows 10 version of SellPro is aligned with its siblings on iOS and Android, delivering dynamically engaging content, packaged in a fast, sleek and beautiful interface. "It's truly exceptional," said Kristian F. Beloff, CEO of mVentix, Inc. "Brands can confidently deliver their training content through a platform that can be accessed on or offline, on or off the sales floor, on virtually any mobile or computing device."
SellPro for Windows 10 is available now at the Windows Store.
For more information or questions on how to drive your brand training message in the retail channel, please contact mVentix at (661) 263-1768 x 8305, info(at)mVentix(dot)com.
About mVentix, Inc.
---
mVentix, provides a wide portfolio of services that empower brands to interact with sales staff and to better serve customers at the point of sale. Through multiple channels, including market intelligence, mobile training platforms and field force solutions, mVentix has quickly become one of the CE retail industry's leading players when it comes to helping brands broaden their reach. mVentix was founded in 2004 and is headquartered in Los Angeles, CA. For more information, please visit https://www.mVentix.com or https://www.SellPro.net.
---
Sign up
We write to help you train retail personnel better and increase retail sales. Sign up to get notified every time we post something new.