COVID has created a murky outlook on our current retail landscape leaving retail chains and brands uncertain how things are progressing or trending at the store level. Fortunately, SellPro enables the retail community to access store-level data from the people that know it best – retail store employees. With SellPro's Insight, data is captured across our unique user base of verified store personnel at thousands of stores throughout the US in real-time.
How SellPro Insight Works
SellPro Insight's new real-time analytics feature gives brands and retailers powerful, real-time intelligence at the store level. Here's how Insight works. Easily create surveys in a matter of minutes, add questions, select the retailers you want and set your desired sample size. When ready, launch your survey in the SellPro app. As soon as store associates begin submitting their responses, you can see the results in your online dashboard in real-time. You can even export the data as an excel spreadsheet.
With SellPro Insight, get the data you need to:
Measure brand advocacy and mindshare
Collect merchandising and compliance data
Gauge consumer behavior
Conduct category intelligence research
Gather product knowledge and opinion
Track field force KPIs
Source marketing feedback
Address inventory shortages and issues
Why is this data different?
SellPro's Insight data gauges real-time retail employee observations, sentiment, compliance and more. Usually, this type of information is only available through secret shopping efforts, resulting in lower-fidelity results. Secret shopping is typically carried out by people who do not know the particular vertical as well, which significantly affects the findings' usefulness.
There are, of course, interactions by retailer regional and HQ staff, brand ambassadors and field forces who visit stores as well, and can gauge operations, and staff perspectives. However, specific issues may bias what retail employees share in this case, and large representative sampling (from a lot of stores) could get very expensive.
When employees talk to their regional managers, they may say just enough to impress and not rock the boat, thereby creating more work for themselves. And retail employee interactions with brand representatives may not be indicative of true feelings or observations as staff may be hesitant to provide candid feedback face to face.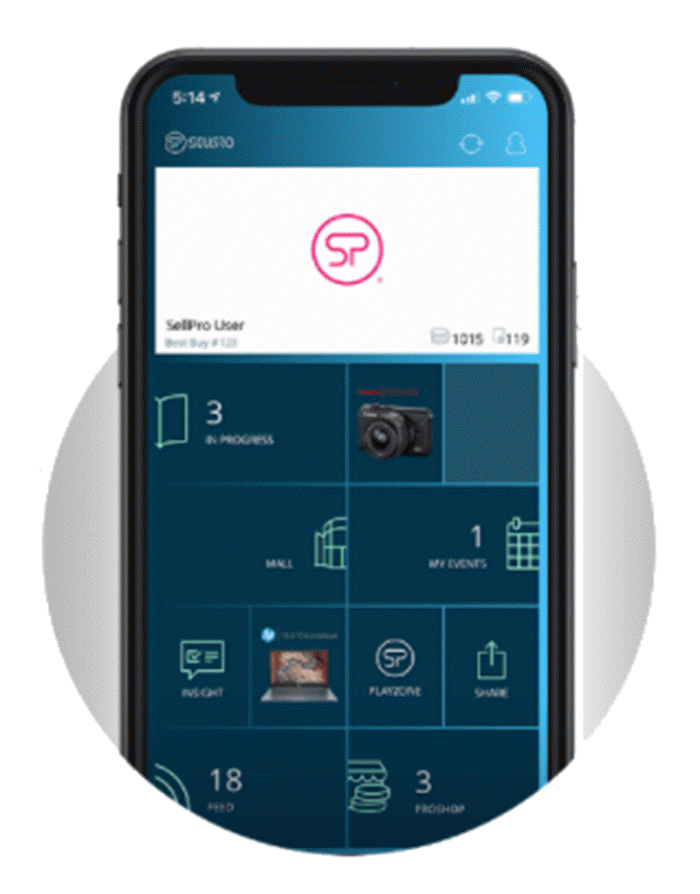 Snapshot of the data
Store-level data from retail stores nation-wide is captured and includes:
Real-time data from verified retail personnel working in the stores at the time.
High fidelity as store employees don't need special training to report accurate store data.
High response rate driven by gamified and incentivized in-app experience.
Instant analytics with filtering and raw data export.
Substantially lower cost than physically sending people to the stores.
How we collect the data.
Now there's no need to gain insight by scheduling store visits, monitoring situations, reporting findings, and compiling reports. With SellPro's Insight, you get the data quickly because you are in the driver's seat. Log in, create a poll or survey in minutes, set the logic and sampling, pick the stores or retailers you want, and deploy. Data starts flowing in near real-time with visualizations that you can include in reports.
Motivating participation
SellPro originated as a research firm. We know how to collect and act on market insights successfully. We effectively connect to frontline retail staff through a variety of methods, including:
Thousands of retail associates log into SellPro every day to complete training micro-courses, attend virtual events, use sales tools, and respond to Insight surveys in exchange for SellPoints.
SellPoints are the in-app currency that drives engagement and participation.
This experience drives a consistent, robust user base dedicated to learning, training, and providing valuable first-hand feedback on the products they sell and perspective on the situation at their stores.

When an Insight survey goes live, all relevant store associates get a push notification directly linked to it, with survey results flowing within

minutes of launch.

Act on market insights more quickly
SellPro maximizes the effectiveness of the number one advantage brick-and-mortar retailers have - the retail store employees. SellPro helps brands build knowledge and advocacy, while retailers reap the benefits of a more confident and passionate workforce.

We've got tons of other features, too. Check out our blog to learn more about how to use SellPro.
---
Sign up
We write to help you train retail personnel better and increase retail sales. Sign up to get notified every time we post something new.