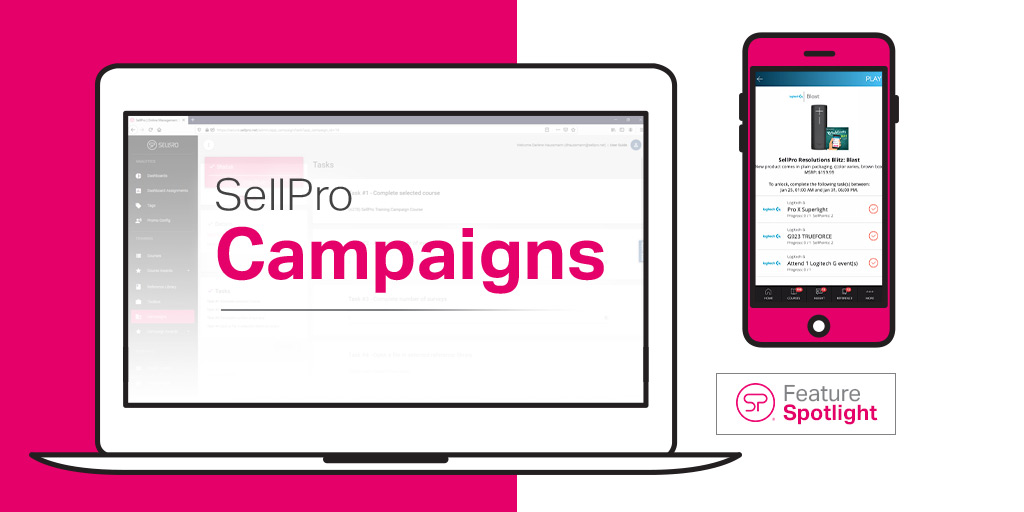 We're always working on making SellPro the best retail training and engagement platform. Our latest feature, SellPro Campaigns, is designed to increase participation in virtual events while enhancing retail employee engagement in associated training programs.
What Are The Benefits of SellPro Campaigns?
With SellPro Campaigns, you can implement a structured training program that keeps employees engaged over a period of time. SellPro Campaigns helps facilitate higher training absorption and content retention rates through focused rewards for achieving targeted goals.
Brands and retailers use SellPro Campaigns to motivate retail employees to:
Complete one or more specific courses

Attend a number of events (virtual or live)

Complete a number of surveys/polls

Open one or more files in a specific reference library
With SellPro's powerful reporting tools and dashboards, you can measure your campaign performance and results accurately. And you can determine which parts worked and which didn't so that you can continuously improve your training efforts.
Reinvigorate Learning Engagement With SellPro
SellPro has always offered brands and retailers a way to quickly generate training and reward employees with our mobile-first approach. The SellPro mobile app is easily accessible, encourages bite-size information sharing, and readily rewards users.
Our platform expands on the learning component offered in traditional LMS by strategically encouraging multiple interactions with retail employees over time. Frequent delivery, particularly in bite-sized formats, shifts retention from short-term to long-term memory.
SellPro Campaigns give you an edge in resonating long-term with retail employees.
To learn more about how SellPro and SellPro Campaigns can help you reach your retail training goals, schedule a call with our team today.

Want to explore more of SellPro's features? Check out our Feature Spotlight blog.
---
Sign up
We write to help you train retail personnel better and increase retail sales. Sign up to get notified every time we post something new.