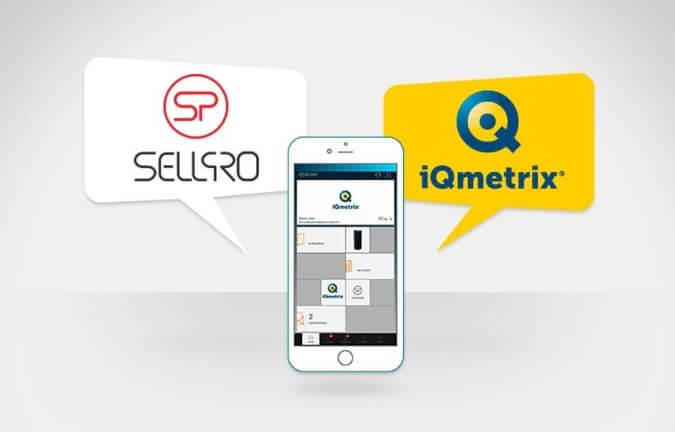 VANCOUVER, Dec. 15, 2015 /PRNewswire/ —
iQmetrix is pleased to announce its partnership with mVentix, Inc. whose mobile training platform, SellPro, will soon be integrated and available for all iQmetrix clients at no extra cost.
The SellPro-iQmetrix integration is scheduled for release in early 2016. Upon joining the SellPro program, retailers can access courses and sales tools from numerous brands within the service. Each brand will be able to deploy content relevant to the stores they sell in.
"We're very excited to have SellPro as our partner and offer our customers access to its mobile on-the-go training and engagement platform," says Maurice Thibodeau, Director of Growth at iQmetrix. "We're confident that our clients will quickly realize the advantage of this type of learning."
SellPro drives learning through micro courses that allow retail sales associates the ability to learn about a particular brand's products and services in less than five minutes. Courses can be completed on the sales floor during the associate's downtime.
For sales associates, SellPro's gamification of trainings is the most popular feature. Upon completion and course certification, users earn points that they can use to play for awards provided by the brands they were trained on. These awards vary from brand swag to marquee awards, such as 4K UHD televisions, tablets and surround sound systems.
For brands, SellPro provides direct access to the retailer and the people who sell their products on a daily basis. Since all training courses and sales tools are accessed through the SellPro app on a mobile device, the platform empowers sales personnel to leverage the content at the most critical time – when they are assisting a customer.
"By integrating with iQmetrix POS, we are able to create a best-in-class ecosystem that benefits the retailer, the brand and the customer," says Scott Kleiman, Senior Director of Business Development at mVentix.
SellPro's current clients echo its effectiveness: "SellPro is vital. We use it for our in-house training materials deployment tool for 1,500+ field reps across the US. When we need to reach sales associates about new products or new services we're offering, we can quickly and easily create a course in SellPro which we know will reach thousands of users in the palm of their hand," said Alex Botham, Manager of the HP Consumer Training organization for the America's Region.
About iQmetrix:
At iQmetrix, we are passionate about retail. Our purpose is to create great experiences for retailers, their employees and the end consumer. Our products bridge the gap between physical and virtual retail channels, offering the latest in retail management and customer experience technology. Our interactive retail solutions bring elements of online and mobile shopping experiences into the physical store to engage and educate shoppers during the purchase process. iQmetrix POS manages all aspects of a store chain operation, including POS, ERP, inventory and HR. Based on a Platform philosophy, our solutions allow users to effectively manage back-of-house operations and the in-store customer experience. In a nutshell, we give retailers what they need so customers can get what they want. Founded in 1999, iQmetrix is a privately-held software as a service (SaaS) company with offices in Canada, the U.S. and Australia. www.iQmetrix.com
About mVentix:
mVentix is a point-of-sale engagement firm, serving global brands in the US and Canada with a wide portfolio of mobile, market intelligence and field force solutions. At mVentix, our mission is simple: drive mindshare and sales by empowering brands to interact with sales staff and to impact the purchase decision at the store level. We succeed by blending a world-class team, advanced technology, creativity and superior execution. mVentix was founded in 2004 and is headquartered in Los Angeles, CA.
---
Sign up
We write to help you train retail personnel better and increase retail sales. Sign up to get notified every time we post something new.