Converting retail store associates into brand advocates takes quite an effort and is a common challenge for even the most recognized brands. Savvy brands understand the need to solve that challenge and invest heavily into field force programs and training campaigns to build advocacy. At the end of the day though, do those efforts translate into sales and positive ROI?
We conducted a one-year study with a global consumer electronics brand inside Best Buy stores to show just how useful our app for marketing to store associates is, particularly when properly aligned with the brand's existing field force efforts.
Marketing to Retail Associates
We built a fun, engaging mobile app that associates love to use. Our platform offers multiple ways for them to earn a wide variety of awards in exchange for learning about your products. We are connected to over 150K associates, who we engage through push notifications, daily interactions, games, quizzes, and a rewards catalog that keeps them excited to learn more about your products.
Engage and Reward Retail Reps
If you want retail sales associates to be your brand advocates, you need to engage them consistently and reward their behavior. Their enthusiasm and commitment to your business goals will increase when they feel appreciated, good about their job, and seen by your brand—these positive responses are achieved through the use of rewards, retail sales contests, and gamification.
Case Study Demonstrating Results
We worked alongside a global brand to prove how effective our mobile platform can drive sales and greatly enhance field efforts. We demonstrated a 400% ROI for the brand and encourage all brands to download the case study to learn how this was accomplished - and how we can replicate the same for you!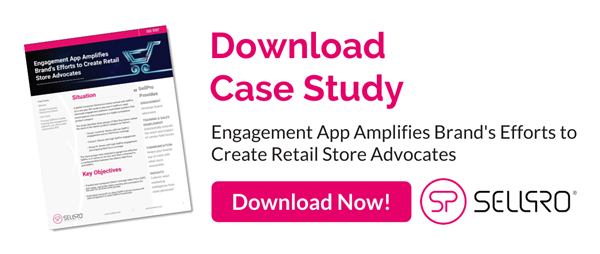 ---
Sign up
We write to help you train retail personnel better and increase retail sales. Sign up to get notified every time we post something new.