Our commitment to the continuous evolution of the SellPro platform, fueled by end-user and client feedback, ongoing investment, and rapid, cost-efficient software development, ensures the platform is future-proof by dynamically adapting to changes in user behavior and market conditions.
Every time a major feature makes it to our roadmap for development, the process begins with a simple evaluation, the outcome of which decides whether we build the feature natively, or we integrate an off-the-shelf third-party solution. It all boils down to three questions:
Is there a third-party feature that can be easily integrated?
Can an integration serve our users and clients better than a natively developed feature?
Can an integration be launched faster and cheaper?
If the answer is "yes" to all above, we go with an integration.
When it came to adding live chat & forums functionality to SellPro, integrating Zendesk and Disqus turned out to be the best way to go.
Introducing Chat with Zendesk.
Zendesk offers a number of different solutions, one of which is now available for brands to implement into their SellPro programs - live chat.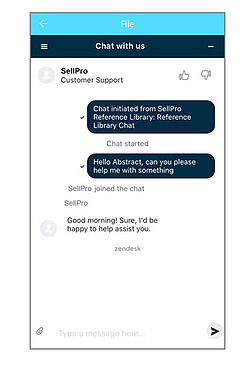 Whether you are a product manufacturer or a retailer, live chat offers store associates a one-on-one communication method at your fingertips.
There are many ways live chat can be used by retail sales associates to connect with product brands or their own employer.
Brand reps can communicate with store associates in between scheduled store visits & trainings. Associates no longer need to hold their questions for weeks until the next time the rep visits their store.
Store associates at locations that reps are not able to visit in person now have access to brand experts on-demand. This opens up a huge opportunity for brands to make more connections with sales people, develop relationships and become a trusted source of information.
Store associates feel more confident recommending a brand's products knowing they can chat if a customer asks a question and they need support to provide an answer.
Retailers can offer live chats within the company to provide support on anything from addressing day to day ops questions to explaining store policies.
Introducing Forums with Disqus.
Disqus has a feature-rich environment that, when used with SellPro, gives brands the opportunity to host discussions with store associates.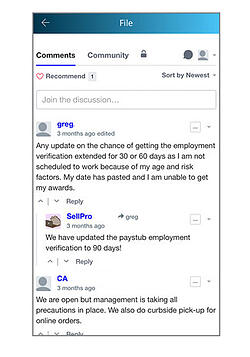 Forums offer a unique opportunity to drive conversations about specific topics and build a community within SellPro. Since a forum can be placed in a few different areas of SellPro, there are a number of potential use cases:
Create an always-on open-ended forum discussion for retail store personnel to engage at their convenience. This will give associates a place to come when they have non-urgent questions, information to share, general feedback, etc. By hosting an open-ended conversation, brands may find commonalities in the comments that can drive changes in their upcoming training plan.
Open a forum about a specific product. Ask sales associates to share success stories about their recent sales or something new they learned about the product. Comments can be moderated but ultimately the salespeople can drive the conversation with each other, which can build a sense of community and even more of a connection with the brand hosting the forum.
Plug a forum into a course, reference folder or toolbox in SellPro to add another interactive element. What did they like about the course? What was the most interesting thing they learned? What do they want to learn more about?
Include a forum as part of a campaign or contest. For example, have users submit product demo videos and select the best one as the winner.
So much can be learned through conversations with the store associates and give a client brand a unique voice within SellPro.
Bringing more to SellPro with integrations.
By focusing on what we do best, we can deploy more features, faster, while leveraging the plugins that complement our platform. What's next? How about expanding our platform to work with 1000's of new 3rd-party features through integration with Zapier?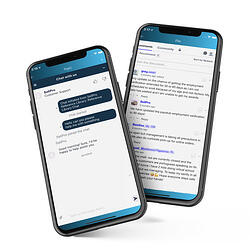 Want to learn more about SellPro app integrations? Schedule a quick, 15-minute demo. You'll be glad you did.

We've got tons of other features, too. Check out our blog to learn more about how to use SellPro.
---
Sign up
We write to help you train retail personnel better and increase retail sales. Sign up to get notified every time we post something new.