Online webinars are an increasingly popular and effective way to connect with many people at once, and training initiatives throughout many industries – including retail - are evolving to adopt this method as employees embrace the idea of mobile training as a part of their job.
Many brands and retailers already see the value in online webinar training for sales associates. However, there aren't many solutions for effectively integrating webinars with their current LMS platforms, and even fewer of those platforms enhance the experience for the end user. After initially launching our Live In-Store Event feature back in 2017, we saw the rising trend in webinar training and quickly realized the value of enhancing our Event feature to include Virtual Events.
Introducing SellPro's Virtual Events.
SellPro's Virtual Events feature allows you to present live training webinars to the same audience that consumes your course, reference and other content on SellPro. Your teams can join and participate in your webinars through the same platform they are already familiar with, and you gain access to a wide audience of store associates who are eager to interact with a live person through an online environment.
Virtual Events offer some unique advantages:
Offer exclusive rewards for participating in your Virtual Events. Give store associates an incentive to take part in your events by including awards. They can earn awards for attending an event, or for performing other activities during the event, like answering questions.
Supplement your existing training materials with live content. Webinars are an excellent opportunity to show product demos or walkthroughs, offer face-to-face training, or host live Q&A sessions.
Schedule Virtual Events to accommodate your audience. You can schedule any number of events, to occur at any time. You can even repeat an event at different times of the day, to allow those in different time zones with varying work schedules to join at their convenience.
Connect with many store associates, all at once. You can expose your Virtual Events to SellPro users by retailer or location to maximize awareness and participation and bring them all together, or to target specific retailers with a customized training message.

Reach sales associates at locations you can't visit in person. In cases where you may not be able to physically travel to a particular store or training venue, you can use Virtual Events to instantly get your content in front of sales associates at those locations.
What SellPro users say about Virtual Events.
Not only do brands and retailers reap the benefits of a more engaged audience through Virtual Events, but they also have a profound and positive impact on store associates. We've collected sample data from over 950 SellPro users, and here's what some had to say about Virtual Events.
"Love the info and interaction with peers... learn many new things. Also enjoy the awards, of course."
– Micro Center 181
"I receive great knowledge not only from the instructor but from other sales reps as well."
– Best Buy 22
"They are great refreshers... Plus, it gives you a chance to ask more questions beyond what we learned already."
– Walmart 3391
SellPro Event Feedback Survey, 12/15/20 – 12/22/20.

Don't just train store associates, connect with them.
Virtual Events are just one way that SellPro can be used as a comprehensive retail employee engagement platform, while helping you connect with your most valuable assets at retail – the store associate. Micro-training, gamification, incentives and online communications all come together in a mobile platform that is easily accessible, encourages better eLearning, and rewards store associates for their time and effort.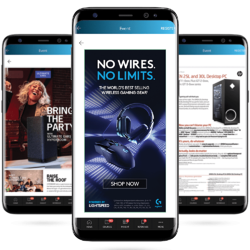 Ready to create a better retail training experience? Learn more about SellPro's Virtual Events.

---
Check out our Feature Spotlight blog to learn more about SellPro's different features, and how they can help you build a better retail training experience.
Sign up
We write to help you train retail personnel better and increase retail sales. Sign up to get notified every time we post something new.