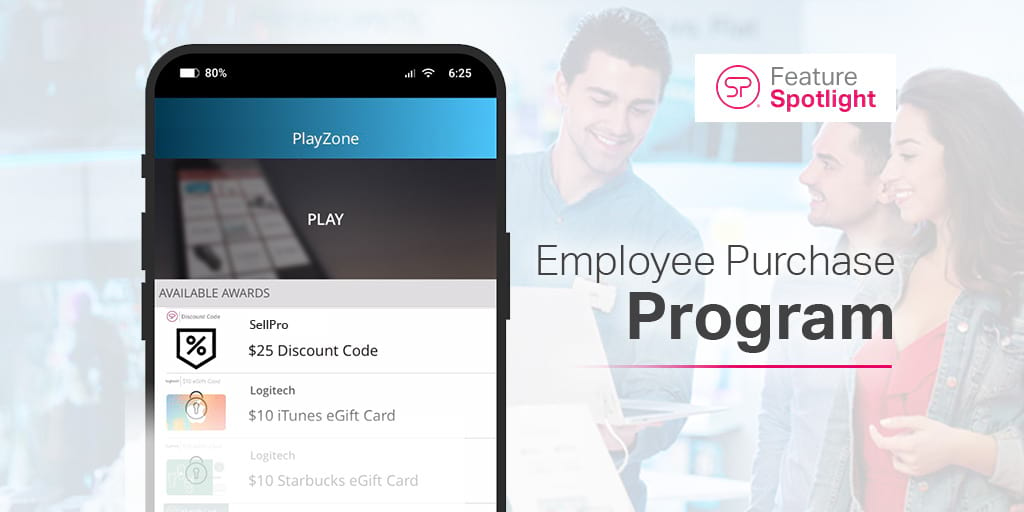 Incentives that drive retail sales, benefit the bulk of the retail ecosystem, and do not require much time or capital investment, are few and far between. But SellPro's Employee Purchase Program fits the bill. The program is quick and convenient for brands and retailers to implement and lights a fire of motivation under retail employees by rewarding them with discounts and helping them access products to relay personal experiences to customers.
How SellPro's Employee Purchase Program works
SellPro's Employee Purchase Program is an award option on the SellPro app, empowering retail employee engagement, knowledge, and advocacy while rewarding employees with the opportunity to purchase products at a substantial discount straight from the stores where they work.
It's never been faster or easier to bring product training and rewards together in a single platform. No more dealing with multiple parties, paper shuffling, excel spreadsheets, and tracking headaches. SellPro takes care of the entire process.
SellPro's Employee Purchase Program is good for:
Brands - Brands can drive advocacy by encouraging retail associates to own and use their products. Over 55% of retail employees say that owning the product has the absolute highest impact on their knowledge and willingness to recommend it to customers.

Retailers - Retailers are not bypassed by vendor websites for employee purchases. Through SellPro's program, retailers benefit by driving the purchases to their own stores.

Retail employees - Employees conveniently access products at significant discounts, learn first-hand about the products and brands they sell, and are more confident during the sales process.
VIDEO: SellPro's Employee Purchase Program
Why should brands and retailers run employee purchase programs?
It's all about the employees who are on the front line of sales. Retail employees have the opportunity to connect with customers and personalize experiences for them that online retailers simply cannot duplicate. Motivating and building up these employees to be strong advocates for the products they sell is critical. Employee purchase programs incentivize staff to use the products themselves. The result is, they can speak from a place of personal experience that goes beyond simple features and benefits jargon when they answer customer queries.
How does SellPro's program differ from others?
Convenience and speed
SellPro executes employee purchase programs through electronic rebates, which are deployed, awarded, redeemed, and fulfilled 100% within SellPro's ecosystem. This execution eliminates the processing time for brands and retailers, and dramatically reduces wait times and hassle, which encourages employees to participate again and again.
Typical employee purchase programs involve several steps and a lot of manual paperwork, which is where most such programs fail. Such steps may include:
Making a copy of the offer
Printing and completing a form
Printing a copy of the purchase receipt
Printing a copy of the product UPC
Mailing the information to a fulfillment center of submitting all paperwork online
Waiting anywhere from 10-15 weeks for processing and verification
Receiving a check or a gift card in the mail, which could be lost
WATCH THE VIDEO - SellPro's Employee Purchase Program
SellPro's process is all-digital, 5-10X faster and requires zero paperwork:
Click on unique, secure redemption link
Finish completing a partially pre-filled form online
Upload proof of purchase pictures
Upon short verification, the discount is deposited via ACH into employee's bank account, or emailed via e-check
SellPro's program benefits everyone.
We've noted the numerous benefits of SellPro's program to brands, retailers, and retail employees, but there is a bonus! SellPro's program also benefits retail customers. Customers prefer well-informed, helpful associates. In fact, 62% of customers indicate a pleasant representative's knowledge and resourcefulness is critical, with 7 out of 10 customers saying they are willing to spend more money where great service is delivered. There should be no surprise that retailers, in particular, increasingly invest in creating good customer experiences - they are being judged strongly by it.

Making it easy
SellPro offers a number of flexible options on how brands and retailers set up employee purchase programs through electronic rebates. Clients start by selecting a discount amount and nominating qualifying products. When an employee wins, earns, or is given a discount. SellPro takes over the processing. Rebates are securely processed as each claimant is emailed a unique redemption link.
To learn more about SellPro's Employee Purchase Program, schedule a call with our team today.

---
Sign up
We write to help you train retail personnel better and increase retail sales. Sign up to get notified every time we post something new.