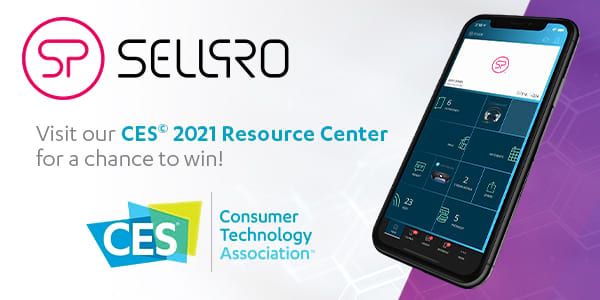 COVID has not stopped the Consumer Technology Association from pulling together global tech leaders to showcase their latest and greatest consumer electronic innovations. Jan 11-14 will see CES's first all-digital annual event with over a thousand exhibitors, hundreds of conference sessions, and ample networking opportunities.

The CES Conference is a massive event owned and operated by the Consumer Technology Association. Each year, hundreds of thousands of attendees and presenters convene on over 2.75 million square feet of Las Vegas showroom floors. The CES 2021® all-digital event is expected to be equally robust and live up to its reputation as "the most influential tech event in the world".

SellPro's virtual booth at the conference is focused on showing consumer electronics companies how they can supplement their field forces to help them launch their products in 2021. As retail outlets again succumb to lockdowns that either bar or limit brand reps from engaging with retail employees in-store, we provide tactics to enable them to maintain crucial training and motivation.

We help brands stay connected to retail employees through:
Gamified product training tools
Virtual event management and promotion
Real-time insights and perspectives obtained at the store-level
Continual incentives proven to increase retail employee participation and advocacy
A user base of over 150K CE retail personnel
Access unparalleled opportunities!
We encourage brands to attend the CES conference to learn and confer with top experts in retail. The event is highly regarded for connecting businesses with potential leads and industry partners.

Some of the retail keynotes and sessions to note include:
---
Retail Trends: The New Shopper
No industry had to pivot faster than the retail world in 2020. What sticks in 2021? Top retailers and analysts explore the latest trends in consumer behavior, both in the US and in Asia.

Speakers: Deborah Weinswig, Coresight Research / Lauren Hobart, Dick's Sporting Goods / Tony Shan, Alibaba
Conference Session
Tuesday, January 12
10:15 AM - 10:45 AMD EST

Duration 30 minutes
---
The Future of Contactless Shopping
The less you touch, the safer you'll be. How does this manifest itself in the world of retail? Meet the industry's pioneers in contactless retail.

Speakers: Laura Heller, Publicis Health Media / Mary Kay Bowman, Visa / Peter Peng, Jetson / Sam Shawki, MagicCube, Inc. / Michael Suswal, Standard Cognition
Conference Session
Wednesday, January 13
5:45 PM - 6:15 PM EST

Duration 30 minutes
---
Retail's New Look: Shopper's Little Helpers
Robotics, computer vision, mixed realities and the Internet of Things (IoT) are part of a slew of new technologies aiming to reinvigorate retail. From virtual try-ons to faster supply chains, innovative solutions are making the shopping experience convenient, fast and personalized.

Speakers:
Robin Raskin, Solving for Tech / Kass Dawson, SoftBank Robotics
Will Graylin, OV Loop / Wayne Liu, Perfect Corp. / Val Vacante, LiveArea
Conference Session
Wednesday, January 13
4:15 PM - 4:45 PM EST

Duration 30 minutes
---
Best Buy Fireside Chat
In this conversation with tech retailer Best Buy, CEO Corie Barry discusses her vision for the future of tech, leading through the pandemic and why diversity and inclusion is good for business.
Keynote
Tuesday, January 12
2:30 PM - 3:00 PM EST

Duration 30 minutes
---
Next steps
1) Register for the CES Conference.
2) Visit us at our virtual booth. [Please note: All virtual booths will go live when the show opens on January 11th.]

And if you can't make it, visit our CES Resource Center or feel free to book a demo with us. We would love to show you how we enable brands to drive sales like never before!

---
Sign up
We write to help you train retail personnel better and increase retail sales. Sign up to get notified every time we post something new.